It is with great sadness that we learned of the death of Her Majesty The Queen.
Elizabeth II, by the Grace of God, of the United Kingdom of Great Britain and Northern Ireland and of Her other Realms and Territories Queen, Head of the Commonwealth, Defender of the Faith.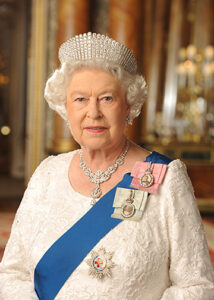 Elizabeth Alexandra Mary Windsor was born on the 26 April 1926, granddaughter of her paternal grandfather, King George V. The interests and passions she became known for, began in early childhood. Her father, Prince Albert, brought home a Corgi when she was seven. Photographs of Princess Elizabeth riding ponies alongside her younger sister, Princess Margaret, point to the accomplished horsewoman and breeder that she was to become.
As the daughter of King George V's second son, there was no expectation of Princess Elizabeth ascending the throne. Her destiny became clear in 1937, when Princess Elizabeth was eleven and her father was crowned King George VI. By the age of eight, the young Princess had already met the man she was to fall in love with and marry, her beloved Prince Philip. Together, the couple enjoyed married life away from the full glare of publicity, adding to their family with the birth of Prince Charles in November 1948 and two years later, in August 1950, with Princess Anne.
The coronation of Her Majesty Queen Elizabeth II on 2 June 1953, was in Westminster Abbey, 18 months after the death of her father. Long periods of absence from home followed, in the first instance on a six-month month tour of the Commonwealth. She never complained, embracing her duties with pride in the dignity of her office, and with remarkable personal humility and warmth.
The Queen went on to become the mother of four children, eight grandchildren and ten great grandchildren. Her love of Balmoral as a family retreat and her affection for all corners of the United Kingdom, meant her reign was marked by unity and stability. As Queen, she was also Head of the Commonwealth, Head of the Church of England, Commander-in-Chief of the British Armed Forces and Patron to some 600 organisations and charities. Many more individuals of merit received honours from the sovereign, establishing a very personal link between Queen Elizabeth II and her subjects. Her coronation vow, to love and serve God, was expressed in life-long selfless commitment to her country and the Commonwealth. It is no surprise that she had a special fondness for the armed forces, as a World War II veteran of the Women's Auxiliary Territorial Service and with her husband serving as a young officer in the Royal Navy. As the longest serving monarch in British history, Her Majesty appointed fifteen Prime Ministers.
The Queen's reaction to the death of Prince Philip in April 2021, of private mourning alongside public duties, characterised the whole of her life of service, showing fortitude and courage in the face of adversity. Selfless commitment and discretion marked her out as a unique sovereign, who inspired affection, awe and admiration in equal measure. Little noticed but no less important, is how she cared about those who stood in the rain for hours on end to catch a glimpse of her. Charmingly, she chose bright colours on official engagements, to help them in their quest.
Assiduously avoiding politics, nevertheless, we can recall how bravely the Queen reminded world leaders at the COP26 summit in Glasgow, that ''We none of us will live forever.'' She went on to define statesmanship as looking to the interests of future generations, over and above our own. The concern the Queen expressed for the future of the earth reflected her understanding and love of the countryside, how every living creature, large or small, depends upon God's Creation to flourish. On 6 February this year, Her Majesty the Queen became the first British monarch to celebrate a Platinum Jubilee. Her joyful celebrations in June brought the nation and Commonwealth together. Upon her death, her eldest son, Prince Charles immediately succeeds her. Our prayers are with him and family members in their mourning for a mother, grandmother, great grandmother, friend, neighbour and great sovereign. The Princess who was crowned Elizabeth the Second, by the Grace of God, of the United Kingdom of Great Britain and Northern Ireland and of Her other Realms and Territories Queen, Head of the Commonwealth, Defender of the Faith will be laid to rest in St George's Memorial Chapel, where her mother, father and sister are buried.
O God,
whose love is boundless and whose mercies cannot be numbered;
accept our prayers for the soul of your servant
Her Late Majesty Queen Elizabeth the Second,
and grant her an entrance into your heavenly kingdom of peace,
light and joy, in the fellowship of all your saints;
through the grace of your Son, Jesus Christ our Lord,
who died and rose again and opened the gate of glory,
to whom with you and the Holy Spirit
be praise and honour now and for ever. Amen.
May she rest in peace.