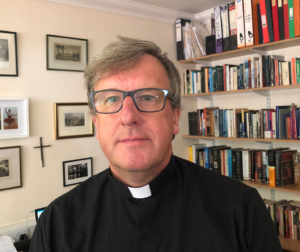 The Church of England Guild of Vergers exists to offer support, guidance, and fellowship to vergers. It also seeks to feed them spiritually, through its rootedness in Church tradition, fellowship, and faith.
In more practical terms the Guild also offers a diploma course and qualification to support the training of vergers and to encourage the very highest professional standards. The diploma is no light undertaking but is experienced as very worthwhile by those who have undertaken it. If you are interested in exploring this possibility further, then in the first instance please speak to a branch chaplain or officer.
Christian faith is, of course, central to the life of the Guild. A usual requirement of being a verger is to be a communicant member of the Church of England and a person of faith.
Why?
Well, it is hard to imagine doing this key role if you were not at least interested in exploring what it means to follow Christ and to work alongside others who are also on a faith journey. Vergers are renowned for their ability both to multi-task and to work a prodigious number of hours per week. It is very often their commitment to the church and to the faith which gives them that extra capacity to persevere and overcome when all around are wilting! They are the glue that holds together many a church and cathedral team across the Church of England and without vergers that church would be greatly diminished.
Vergers are also often the first point of contact for those who visit our churches and cathedrals. A warm welcome from a smiling and helpful verger speaks loudly and clearly of a church which is inclusive and welcoming and a Lord who loves us all. Meeting a verger may well be first encounter many of our visitors and pilgrims have as they enter our wonderful buildings. Let us not forget that our churches and cathedrals are not a natural habitat for many people and a hospitable reception will put them at ease and open them to what the building has to say to them.
I hope the above speaks to you. May I as your new National Chaplain thank you for the privilege of serving you as your priest and friend and may I thank you for all you do. In your own quiet way, full and part-time, paid and voluntary, you are by your steadfast love, care, and service giving glory to God.
The Ven. Dr David Jenkins FRHistS
National Chaplain